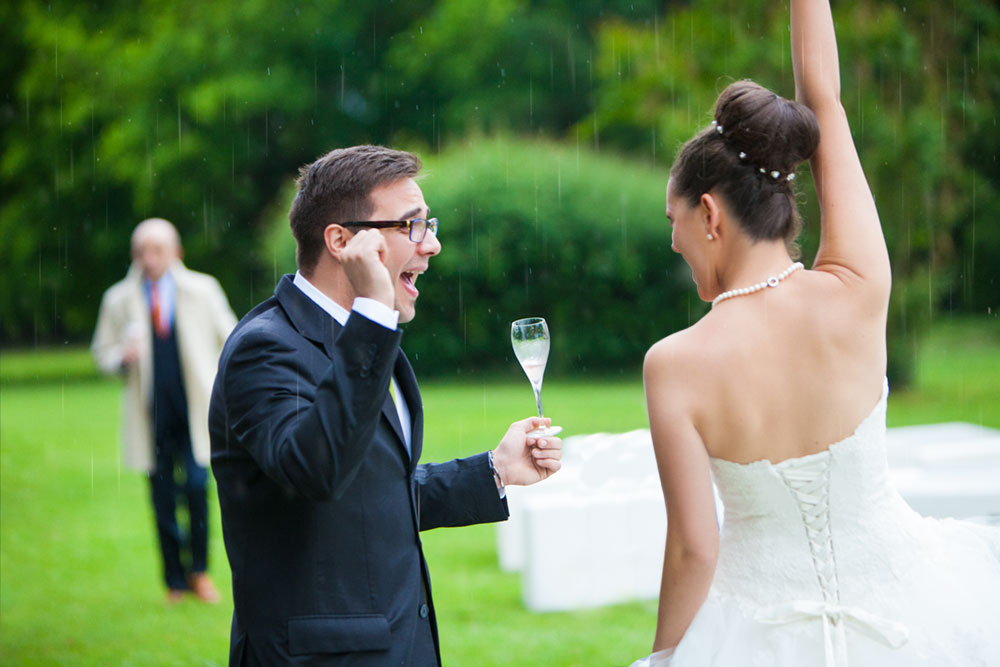 Asti - 2015
Wet wedding party in the rain
Nicol and Antonio's wedding was one of the most beautiful wedding we work for in Piedmont (in italian: Piemonte), very close to Asti wine valleys.
We work very often for weddings and events in Piedmont. A strategic area not vey far from Liguria, Lombardy, Valle d'Aosta, and Emilia Romagna, as well as from France and Switzerland. To get there, fly to Genoa, Florence or Milan and then take a regional train.
The real jewel of this region full of Green and hills, is the grape. The purpose of the Piedmont is wine, and there, they take care of it very seriously. Although it is not known for tourism as other places in Italy, Piedmont is an ideal place for shooting outdoors where you can enjoy landscapes and backgrounds with soft romantic lines.
Piedmont is also typical for the "Spumante" (like Champagne) of Asti and it's the homeland of grapes such as Nebbiolo, Barbera, Dolcetto, Brachetto and Moscato, which are used to produce some of the world's best-loved wines such as Barolo and Barbaresco. Twelve wines from this region enjoy the estimated DOCG (Denomination of Controlled and Guaranteed Origin) classification. You can not say that the people here do not know how to appreciate the beauty and the good things of life!
Anyway, even if usually this is a sunny area during summertime period, that days it started raining very hard.
No problem for our positive and energetic spouses! Nicol and Antonio, our beautiful married couple, decided to have fun anyway and started dancing in the wet grass of their beautiful villa with their parents and friends! This triggered a contagious effect of pleasant euphoria which made the celebration lively and fun as no one could ever imagine!

!
In this amazing photo, we catch the brother of the bride, throwing rose petals in the wind…  under the rain… while everyone began to realize that the rain was coming strong and that it would have been a very different unusual wedding party…
---